#ad: Hever Castle: an incredible family day out for all ages and interests
For nine years we lived on the Kent/London border. For nine years we had some lovely days out. For nine years we had no idea how much we were missing out, failing to visit the heavenly Hever Castle. In all honesty, we knew we had our National Trust membership, and as Hever Castle is an independently owned venture we didn't look far beyond our narrow sphere of knowledge. Knowing what I know about this amazing place now, it will definitely be a place we meet up with friends and relatives of all generations. Its location (on the Kent/Surrey/Sussex borders) means that it's a perfect "let's meet up there, it's half way between all of us" spot. And frankly the coffee was so good I'd be tempted just to go there for that… here's my full and hopefully so-comprehensive-it's-useful-but-verging-on-OTT review!
When we arrived we had promised the kids we would let them try out the play areas initially, hoping that we could get a morning coffee and enable them to let off some steam before we braved a Tudor Castle with two under fives… we were SO IMPRESSED by the play areas. Essentially you've got:
A beautiful outdoor play area for younger children, including a giant sandpit, tunnels, slides, climbing frame, bridge, loads of climbing boulders… (this is called Acorn Dell) I was so impressed with the functionality of this and the natural aesthetic. The attention to detail is also amazing: the benches for coffee-swigging parents (FYI you get money off for taking in your reusable cup - quite right too and you get to feel smug and like you're saving money all in one go) are cleverly curved and designed to look like they're castellated - I was so in awe I looked up the company who made them: Duncan and Grove - you're awesome!
The second area is called Tudor Towers and is a real showstopper. It's bigger than a large family house, has three separate towers, two with Fireman's Poles at their apexes, the third with a terrifying and brilliant slide. There's netted tunnels, mazes, musical instruments to whack, a moat, ramparts, its own Tudor Dining Room. I am sure that my three year old wasn't supposed to be in there, but I followed him round like a guard dog (the fireman's pole has a sheer drop to the bottom) and he and I loved it!
The final space was the Playground itself-a soothingly shaded area to the back of Tudor Towers, with everything you would expect from a playground: swings, slides, zip wire, climbing structures… in this instance I think a picture will say 1000 words! And as you can see from the final image, there was coffee right at the entrance to the playground - my two are posing by the sign advertising it…
Divorced, Beheaded, Died…
Now that we'd burned off enough energy to power a small town, it was time to walk through to the Castle itself. This walk was where the adults chatted about the quality of Hever Castle - everywhere you look there's an incredible attention to detail - whether that's the fine motor skills of the gardeners creating the characterful topiary animals, the beautifully neat pathways, or the sense of perspective created by the architecturalto planting. All this easily justifies the price of entry - this isn't a "cheap as chips" day out - but it's worth it when you see the integrity and care woven into the fabric of this place (the Annual Membership is also a really competitive price that I'd really recommend). Back to what you see and hear - the trickle of the river, the quacking of the ducks, the crunch of gravel, and then the Castle itself comes into view…
Tudor History brought to Life
There was so much to praise about the Castle itself. The Virginia Creeper was in full bloom when we visited, covering this architectural gem in ruby splendour. My kids couldn't believe this was a "real life" Castle, with an "actual drawbridge and moat" - we had lots of fun imagining pulling up the drawbridge in case of attack! The queuing system was efficient, and on the day we visited we were serenaded by recorder and hurdy-gurdy - a treat for the music teacher in me!
I have been to a lot of Historical Monuments (!), but this was easily one of the best I've been to. What did we love about it? So much, but in no particular order: a) the fact that the kids were welcomed and encouraged to look around, without it being all "touch this old object kids - we're so down with you!" They were expected to behave respectfully, whilst acknowledging that they were kids, and kids are noisy and curious. The amount of exhibits at their level was really welcomed; b) the incredible standard of restoration and care given to the objects; c) Anne Boleyn's private Chapel and bed - the stained glass was exceptional; d) the sheer amount to see; e) the friendliness of the guides without being overbearing. E's favourite thing was the "really really really old book", A's was the "shiny knight armour", my husband and I loved the Chapel and I loved the sumptuous fur covered beds (spot the tired mama). My dad - who accompanied us on the family day out - was able to spend longing reading all the exhibits in detail, while we kept up our energy with massive ice creams on the river bank, watching the ducks and the calming waters.
The Gardens
As a keen gardener myself (see my blog on five must grow plants with kids) the Gardens were one of my favourite parts of the day.
the Italian Gardens
The Pompeiian Walk, the Pergola Walk, the Lake, the Colonnades, the sweeping Lawns…have I whetted your appetite yet?! This is beauty unparalleled - and on a practical level it's loads and loads of space for kids to run through without being told off - kids feeling free in nature is my favourite thing and at Hever Castle and Gardens there's countless opportunities for them to do just that.
The Rose Garden was another highlight - it was just starting to get towards the end of its season when we visited (late August) but with over 4000 flowers to appreciate the kids and I loved choosing our favourite ones and trying to guess the name - there is even the Hever Rose!
There is so much more to see in the Gardens - I hope very much to do a separate review with gardeners in mind in the future - but to really delve into the detail I'd bring my notebook and leave the kids in the play area for a while! Diana's Walk, the Two Sisters' Lawn and the Blue Corner are places of true repose and quiet, while the Tudor Garden has more terrific topiary, including carved Chess pieces, a herb garden, and plenty of seating.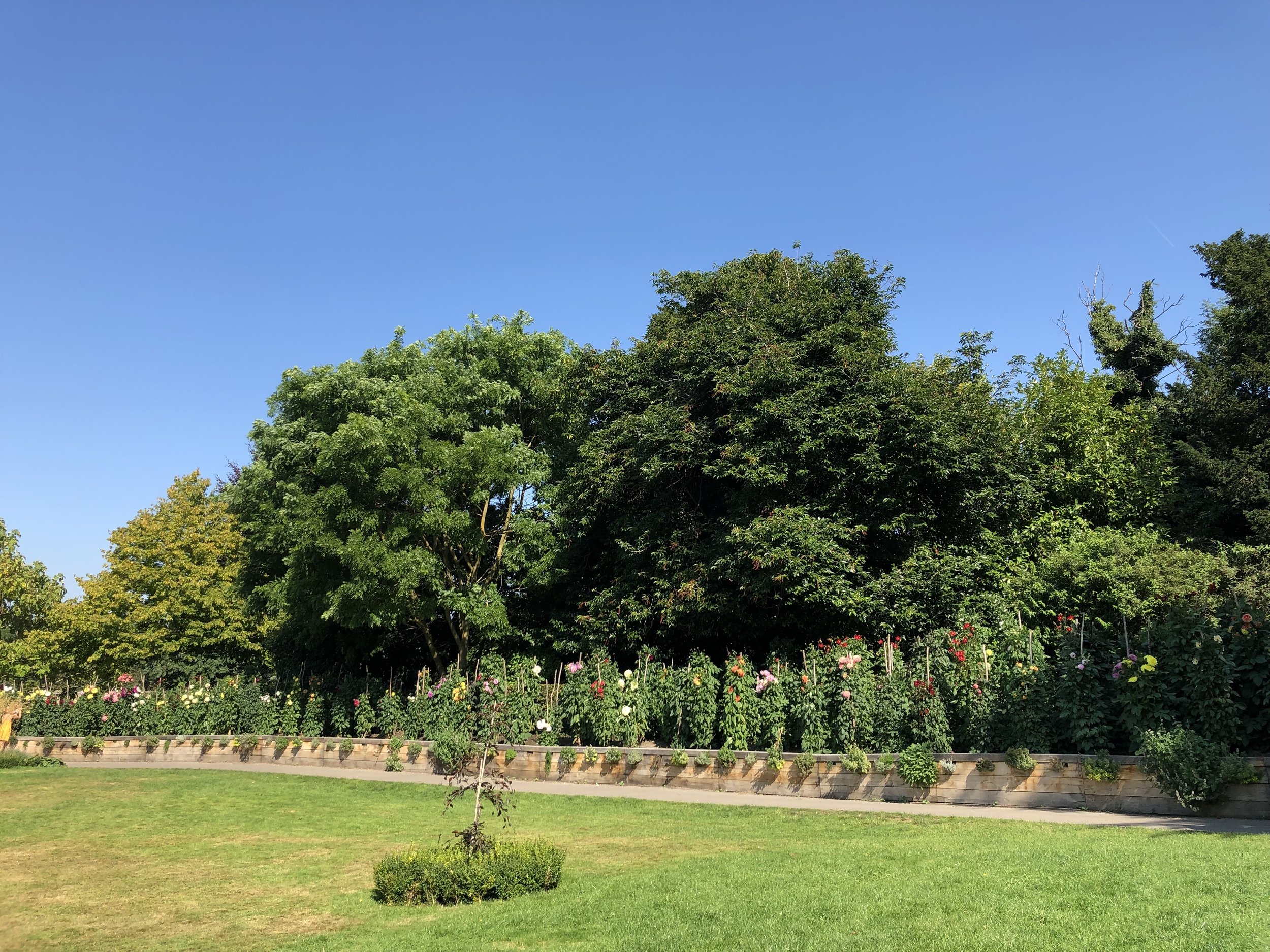 The Mazes
Well aren't these fun! My dad and I did the Yew Maze while the kids snacked, and then the kids and I went through the Water Maze. If you're going to do this, be prepared and bring a change of clothes - you'll need it. Walking on stone slabs, some of these stay still. And some don't. Those that don't greet you with a great spurt of water - not a sprinkle, a sucker punch! It's brilliant! And it's going to get your clothes properly drenched - so bring a change of clothes, and love it!

The Food
We'd definitely earned our lunch by now - the kids, Dad and I shared a delicious pizza from the red Pizza Van outside the Guthrie Pavilion Cafe and Restaurant (there's also the Moat Restaurant overlooking the Castle and the Loggia prosecco bar - again, Mama needs a day out to visit the Gardens and this…there's also lots of space to enjoy a picnic), while my husband (who's dairy free) had a posh fish-finger sarnie and loved it!
At this point the kids were starting to wilt and we decided that after lots more running around, including a look at some glorious dahlias, watching some other kids take advantage of the amazing archery, and another ice-cream (good thing there are kiosks all over the site) we called it a day.
Will we go back? without a doubt. I want to see all the things I missed last time, including the miniature model houses and Military Museum, the kids are desperate to go back to the Tudor Towers Play Area and I need another coffee from there…and the gardens…
And if Hever Castle ever want me to review the five star Luxury Bed and Breakfast located in the Astor Wing and the Anne Boleyn Wing (an Edwardian Wing attached to the Castle) it would certainly be no hardship…
NEED TO KNOW (taken from the website - always check directly with Hever Farm and Castle as details may change).
Ticket Prices for 2019
Annual Membership Prices (in my opinion definitely worth it!)
Opening Hours:
2019 – Grounds open at 10:30 am – Castle opens at 12:00 noon
On arrival you will receive a leaflet with opening times for all attractions and amenities.
Getting There:
DIRECTIONS (from Website)
Satellite navigation users: Post Code TN8 7NG
Hever Castle is located 30 miles from central London, 3 miles southeast of Edenbridge off the B2026 between Sevenoaks and East Grinstead in the village of Hever.
It can be reached via junction 10 of the M23, and is signposted from junctions 5 and 6 of the M25 and the Hildenborough exit of the A21.
Coach drivers and group organisers are advised to check the route before travel as there are a number of low bridges in the surrounding area. If you are travelling in a double-decker coach please contact us for alternative directions.
Parking is free and accessible parking is available. Please note that Hever Castle cannot be held responsible for any loss or damage to vehicles or their contents whilst you are parked on site.
Please note that there is more than one car park. On arrival, you will be met by staff to guide you to the car park that is open for use. If you have accessible needs please notify them. If you are meeting friends and family, unfortunately, we cannot guarantee that you will be located in the same car park. Car parks close 15 minutes after last exit from the grounds, staff are in attendance to ensure that all cars are accounted for.
Horses
Please be aware that horse riders are in the area, please slow down and pass wide and slow. Further advice can be found here.
By Rail
Trains run from London Victoria and London Bridge (via Oxted or East Croydon) to Edenbridge Town Station, and then take a taxi for three miles to the castle. Relyon Taxis are near the station, telephone 01732 863800. We suggest that you book a taxi in advance for both legs of your journey.
Hever Station (next on line, unmanned and no taxis) is a one-mile rural walk to the castle. (Map of walk from station to castle).
As you leave the platform you will also see another map on your left. This will guide you to Hever Castle, but you simply need to look out for red and white wooden posts.